We hold meetings with students from primary and high schools. We provide a preview of the realities of studying technical and IT faculties as well as working in the IT industry. We support the development of technological interests among children and young people.
It's time to end the stereotypical approach to people working in IT. Anyone can work in this industry! Regardless of age, appearance or gender. Girls can! What counts are good intentions, commitment, analytical skills and perseverance in pursuing the goal.
scholarships and internships to students and young girls at prestigious companies from around the world. Want to support our activities? Contact us! students and young girls scholarships and internships in prestigious companies from around the world. Would you like to support our activities? Write to us!
We conduct technology lessons with every age group, starting with 5-6 year olds and ending with students. We show different ways of using technology and how to teach about it wisely. We want children to know not only its positive, but also dangerous sides in the future.
One of our watchwords is "inclusive not exclusive". We want to emphasize that in our activities we do not exclude boys and men - we also want to encourage them to take up a career in the technology industry and they are always welcome at our events and workshops.
We support female students and pupils wishing to study IT, women currently working in IT or wishing to change their profession. Have questions? Need some help? Contact us!
Most programmers leave the profession while still in kindergarten.
Who said girls can't code? Let's not tell them stories like that.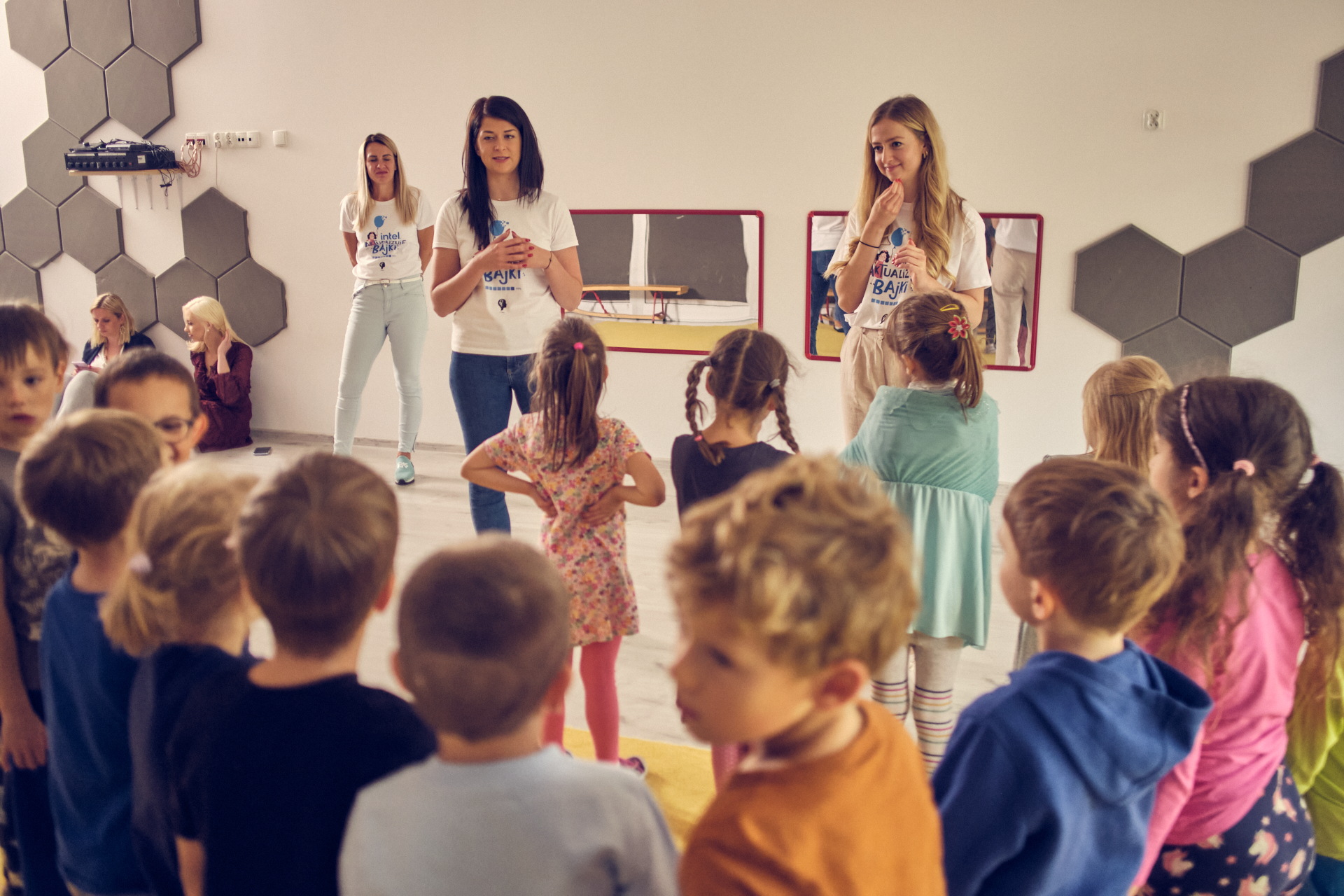 The "Intel Updates Cartoons" campaign argues that girls can code too.
The IT Girls Foundation was established on the basis of the experience of its founders, sisters Wiola and Ada. They themselves have made their way in IT - from an idea for the future, through choosing studies, to working in the profession. The Foundation wants to inspire and educate children and youth about their development opportunities in professions related to new technologies and information technology.
The Foundation was established to accompany children and youth in fulfilling their dreams of working in professions related to technology. All its activities are focused around development paths, data-based education and take place with the support of allies: parents, partners, other non-governmental organizations.
Wiola and Ada Klimczak - founders of the IT Girls Foundation
The main goal of the foundation is to contribute to increasing the participation of women in the IT industry. And they strive for this through education, programs and workshops for children. Thanks to this, children and young people are not afraid to reach for their dream of working in new technologies.
– We want young girls not to be afraid to dream of a career in the technology industry. We want to accompany them in developing their passion for technology, inspire them to take action and look boldly into the future – because it depends only on them. – say the sisters, Wioletta and Adrianna Klimczak.
Did you know that even 6-year-old girls believe in gender stereotypes? Did you know that at this early stage, many girls will unknowingly abandon their dreams related to certain professions stereotypically considered "for men only"? This is absolutely terrifying! Hence, our small dream is that we, as a society, become more and more aware of these stereotypes. In our "Breaking Stereotypes" project, we will present you the most common, harmful stereotypes related to the field of computer science and new technologies as well as to raising children.
The IT GIRLS SCHOOL workshops series invites 7th and 8th grade students to the CIC business center. During the workshops, students have the opportunity to see how the work of people connected with IT looks like as well as interesting demos of various technological solutions and work in a modern office, such as CIC Warsaw. The program is held in cooperation with Venture Cafe Warsaw Foundation.
Einstein. Newton. Tesla. Gates. Banach Jobs Hawking One could endlessly keep listing like this. But how many of these famous, prominent scientists and inventors were, or are, women? This is exactly what is missing in Polish education. The education about female role models and authority figures in the world of technology and science. After all, it's not like these women don't exist. There are many of them, and that is what we want to highlight in our educational cycle titled "WOMEN IN STEM".